Velvet Underground by Teri Brown
Publisher: Balzer + Bray
Publication Date: October 20th 2015
Rating: 4 stars
Source: eDRC from Edelweiss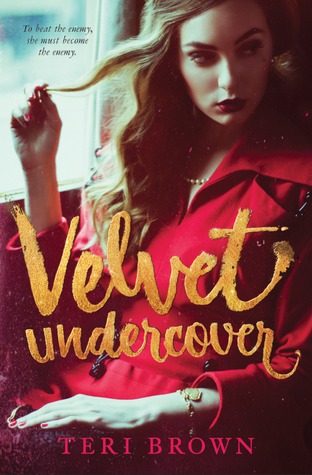 Samantha Donaldson's family has always done its duty for the British Crown. In the midst of World War I, seventeen-year-old Sam follows in their footsteps, serving her country from the homefront as a Girl Guide and messenger for the intelligence organization MI5. After her father disappears on a diplomatic mission, she continues their studies of languages, high-level mathematics, and complex puzzles and codes, hoping to make him proud.
When Sam is asked to join the famed women's spy group La Dame Blanche she's torn—this could be the adventure she's dreamed of, but how can she abandon her mother, who has already lost a husband to the war? But when her handlers reveal shocking news, Sam realizes there's no way she can refuse the exciting and dangerous opportunity.
Her acceptance leads her straight into the heart of enemy territory on a mission to extract the most valuable British spy embedded in Germany, known to the members of LDB only as Velvet. Deep undercover within the court of Kaiser Wilhelm II, Samantha must navigate the labyrinthine palace and its many glamorous—and secretive—residents to complete her assignment. To make matters worse she finds herself forming a forbidden attraction to the enemy-a dangerously handsome German guard. In a place where personal politics are treacherously entangled in wartime policy, can Samantha discover the truth and find Velvet before it's too late…for them both?
From author Teri Brown comes the thrilling story of one girl's journey into a deadly world of spycraft and betrayal—with unforgettable consequences
My Review:
First I want to say thanks to the publisher for a chance to read this. I have to admit, I do not read many spy-related books, even though I am a big James Bond fan. I liked this one for various reasons. One the main character, Sam is a likable person, she has a strong sense of duty to her family that I can appreciate. She just didn't jump head on into the spy game without thinking seriously about it. She shows her lack of experience making mistakes that could lead to her downfall. Maybe it was just pure luck on her side, or something else why she wasn't caught earlier.
I liked the setting and the time period also, WW 1 is not a usual period to be written about, well not that I have read anyways. In fact this sort of made me curious about the whole spy games during WW 1, and I will have to go look up what girl guides were, sounds really intriguing to me.
There are many twists in this book, they will have you guessing until almost the end about who Velvet is, and this one caught me completely by surprise. The romance was just a little bit of flirtation, nothing to serious. It was all and all a very good read, I hope the author has plans for something else in the future.