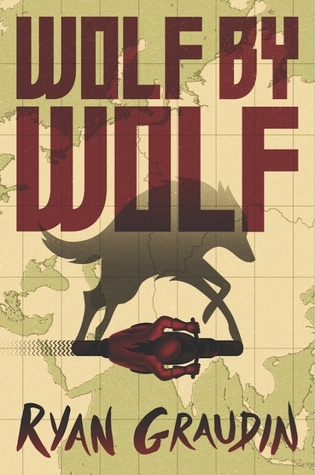 Title: Wolf by Wolf
Author: Ryan Graudin
Format: Arc
Publication Details: Expected publication: October 20th 2015 by Little, Brown Books for Young Readers
Source:
Arc Adoption Program at Miss Prints Blog page
Description from Goodreads:
Code Name Verity meets Inglorious Bastards in this fast-paced novel from the author of The Walled City.

The year is 1956, and the Axis powers of the Third Reich and Imperial Japan rule the world. To commemorate their Great Victory over Britain and Russia, Hitler and Emperor Hirohito host the Axis Tour: an annual motorcycle race across their conjoined continents. The victor is awarded an audience with the highly reclusive Adolf Hitler at the Victor's ball.

Yael, who escaped from a death camp, has one goal: Win the race and kill Hitler. A survivor of painful human experimentation, Yael has the power to skinshift and must complete her mission by impersonating last year's only female victor, Adele Wolfe. This deception becomes more difficult when Felix, Adele twin's brother, and Luka, her former love interest, enter the race and watch Yael's every move. But as Yael begins to get closer to the other competitors, can she bring herself to be as ruthless as she needs to be to avoid discovery and complete her mission?
My review:
I am giving this book a solid 4 star review
I am going to be honest in the beginning. I think I may have a problem with alternative history books. It takes me awhile to wrap my mind around new details about the world, and I always have questions about the holes that never seemed to get answered.
I did this awhile back about a alternative history book that centered around the Rape of Nanking. This one also happened during the time period, even though it was before World War 2 started, nothing seemed to read right for me, and there are so many now what's to ask.
So looking at the state of the world in Wolf by Wolf, Hitler won his war in Europe, England fell, Russia fell, the United States remained isolated which I guess means Pearl Harbor didn't happen, there were no nukes...you see I have a serious problem. There are just to many questions to be answered, okay lets get back to the story
We met Yael, a young Jewish girl on a train to a concentration camp, she is picked by a doctor, now I am sort of curious which concentration camp they are at, but maybe in not naming it, it makes it just seem like all the others. She is picked by a camp doctor for experimentation. I am not a doctor, and honestly I might have to go back and do research in what he was trying to do. I am a little lost in those details. Most important fact, this changes Yael, she gains the ability to change her appearence which in fact aids in her escape.
This book takes place in two parts, flashbacks to the people that are important to Yael and the present. The race which takes place across Europe into Asia. She takes the appearance of Adele Wolfe, the only female racer to have won the race before. She meets Luka, who shares a past with Adele and Adele's twin brother Felix. She struggles most often in her deception around these two. She doesn't have the details about the relationship with Luka, and Felix whose relationship runs deep with Adele.
I think I loved the race idea, its sounds crazy to compete in, but at the same time cool to read about. I loved the complex character of Yael, a girl who doesn't seem to know who she really is and assumes other's identities. She makes the story more intriguing, and I can not help but wonder if Ms. Graudin has a sequel in the works.
I would really like to know more, about what happens next in this world. I am not going to spoil anymore details, but I can't help but feel that the ending was sort of a cliffhanger. Romance isn't a big part of this book, there may have been a few kisses, but they were ones of mistaken identity. I can even get past the problem I have with alternative histories, I swear I can.
I would recommend this book to a person who like a strong female lead character, even to people who like alternative history.