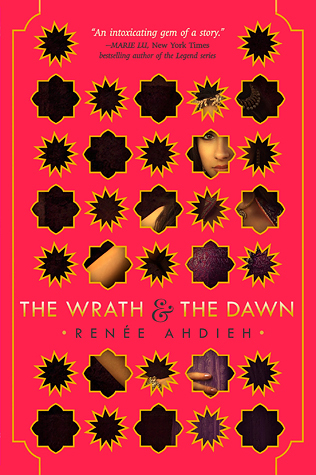 Title: The Wrath and the Dawn
Author: Renee Ahdieh
Format: Hardcover
Publishing Information: May 12th 2015 by G.P. Putnam's Sons Books for Young Readers
Source: Purchase
Description from Goodreads
One Life to One Dawn.

In a land ruled by a murderous boy-king, each dawn brings heartache to a new family. Khalid, the eighteen-year-old Caliph of Khorasan, is a monster. Each night he takes a new bride only to have a silk cord wrapped around her throat come morning. When sixteen-year-old Shahrzad's dearest friend falls victim to Khalid, Shahrzad vows vengeance and volunteers to be his next bride. Shahrzad is determined not only to stay alive, but to end the caliph's reign of terror once and for all.

Night after night, Shahrzad beguiles Khalid, weaving stories that enchant, ensuring her survival, though she knows each dawn could be her last. But something she never expected begins to happen: Khalid is nothing like what she'd imagined him to be. This monster is a boy with a tormented heart. Incredibly, Shahrzad finds herself falling in love. How is this possible? It's an unforgivable betrayal. Still, Shahrzad has come to understand all is not as it seems in this palace of marble and stone. She resolves to uncover whatever secrets lurk and, despite her love, be ready to take Khalid's life as retribution for the many lives he's stolen. Can their love survive this world of stories and secrets?

Inspired by A Thousand and One Nights, The Wrath and the Dawn is a sumptuous and enthralling read from beginning to end.
Review + a little extra
5 out of 5 stars
Finished Reading this book in August. I could have probably have devoured it in one sitting, however I wanted it to last. I had to make myself put down this book and walk away. I love the story and the setting and the details that made it a little different from the original One Thousand and One Nights. Everyone has their own agenda, everyone has different reasons for falling into this one place. The love story starts to build, and even though maybe it starts to climax. Then boom...what the heck was that in the ending. NOOOOOOOOO...you can't do that to the reader.
Okay back to other things, I know many readers loved this book, so I am adding a little extra at the end. The picture features Hrithik Roshan and Aishwarya Rai Bachchan in one of my favorites movies Jodhaa Akbar. I think they would be a good pair for the leading roles in the movie of The Wrath and the Dawn. Its also features one of my favorite scenes, the sword fighting one...Ms Ahdieh can we have another sword fighting scene in the second book. One that is part dangerous...part sexy. Ahem ok moving on.
If you haven't read this one, go read it
(Pictures is not mine, all rights reserved, will remove if asked)